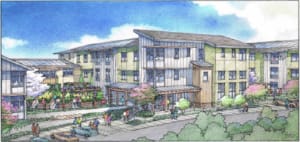 On, March 1, the Fairfax Town Council demonstrated the political will Marin needs. Council members pivoted to a new, less controversial path to getting to yes on Victory Village. Responding to overwhelming support from an overflow audience, the Council directed staff to:
develop a new zoning district exclusively for senior housing, and
process the Victory Village application in this new district.
MEHC strongly supports this approach; it's transparent and easy to understand.
The Fairfax Planning Commission has conducted a study session on the project. Public support at upcoming meetings will help to bring this project "home."
April 20

:  Planning Commission:  consideration of entire Victory Village project including proposed zoning

May 3

:  Town Council: first reading of zoning ordinance and discussion of project approvals

June 7

:  Town Council: second reading of zoning ordinance and final project approval