Connecting the dots…
Affordable Housing, Sea Level Rise and Marin's Big Oil Lawsuit
Two major county initiatives – the Marin Shoreline Sea Level Rise Vulnerability Assessment (April 2017) and a lawsuit brought by Marin and San Mateo counties and the City of Imperial Beach against 37 oil, gas and coal companies – drive home the connection between affordable housing and environmental protection.
The Vulnerability Assessment concludes that, within 15 years, over 8,000 acres, 3,800 parcels and 4,500 buildings on Marin's waterfront could be impacted by tidal flooding.
For example, in San Rafael over 1,400 buildings could be impacted by flooding as soon as 2030. Most of these buildings line the San Rafael Canal or are in the low-lying areas west of the Canal. The buildings in this area are subject to damage and may become uninhabitable, reducing already critically low housing supply. Most of the residents within this 8,000-acre area (50% – 70%) expend nearly half of their income on housing and transportation.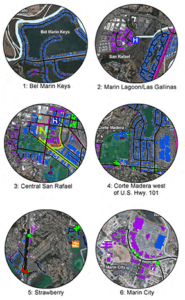 The Assessment notes that "[t]hese residents are disproportionately vulnerable to sea level rise and are some of the first people impacted by sea level rise at their front doors."
By 2100, multi-family affordable housing in southern Marin would also be subject to storm surge flooding. In the meanwhile, critical infrastructure – roads, sewers and sanitation – are already flooding and at risk of periodic failures. The costs to adapt to sea level rise and mitigate potential damage could run into billions of dollars in Marin alone, without even considering the potential human costs – loss of businesses, homes, neighborhoods and communities.
The County's report assesses potential short, medium, and long-term impacts with maps and data. The image below is an example from the Executive Summary.
LET'S CONNECT THE DOTS:
Many residents along the bayside shoreline are already over-burdened by the most basic expenses, especially housing.
The Marin bayside is on the front lines of sea level rise and tidal flooding, disproportionately impacting vulnerable residents.
Sea level rise likely will exacerbate the shortage of affordable housing.
Addressing these impacts will cost big money.
That's where Marin County's groundbreaking lawsuit against the fossil fuel conglomerates comes in. The suit claims that the oil, gas and coal industries have known for decades that their products are a major factor in climate warming and sea level rise. Rather than working to responsibly reduce risks, they ran a multi-million dollar "FUD" campaign (Fear, Uncertainty and Doubt) to discredit the scientific evidence about climate change.
Marin's suit asks the court to hold 37 companies accountable for exactly the kind of damage documented in the Vulnerability Assessment. The County is seeking monetary damages to help low-lying coastal areas, including the Canal, Marin City and other communities adapt to sea level rise.
The fossil fuel lawsuit faces major hurdles, but the facts are on the County's side. Ultimately, there may be a large-scale settlement, similar to the settlement with Big Tobacco. This litigation will also serve to raise public awareness of the threat fossil fuels represent to the environment, including affordable housing.
MEHC will be watching how the County and its citizens respond to the Vulnerability Assessment and how the lawsuit progresses. County staff has begun drafting policies to respond to sea level rise; protecting housing resources must be a major focus.
***********************
Here are some links for further info about the Big Oil lawsuit:
350 Marin
This is a good, simple introduction to the lawsuit, focusing on Marin. It has a graphic showing potential inundation in Mill Valley. It highlights our exposure to the sea level rise, and has comments for Supervisor Sears.
Scientific American
A very simple overview.
Washington Post
This excellent article explains how this lawsuit differs from previous efforts to litigate climate change issues. One interesting point: "The California Supreme Court is going to view disappearance of its coastline quite differently than the Supreme Court might view it." This article is the strongest on the legal strategy; Sup. Sears is quoted several times.
Think Progress
Some good info on the legal theory. Useful supplement to the Washington post article.
Mercury News
Good Marin quotes in this article.