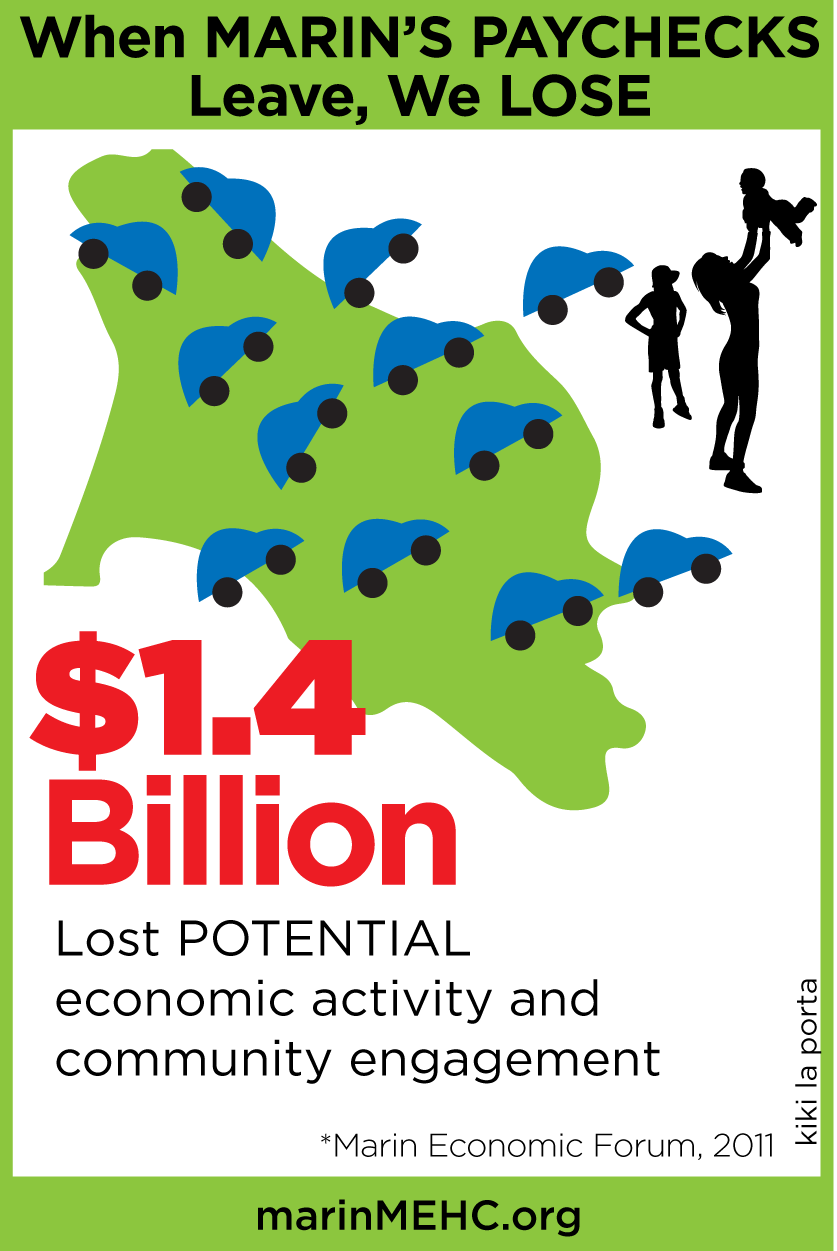 The lack of affordable housing costs everyone
The majority of Marin's workforce commutes from other counties to work in lower-wage service jobs…which are the fastest-growing sector of Marin's labor market. 
Why do 68,000 people endure the cost, time, and stress of long commutes? Most cannot afford to live close to where they work.
Maybe you think that it isn't our responsibility to see to it that there are homes that they can afford right here in Marin.
But think about it another way. Service workers make their incomes here and take their paychecks home to other counties where they live. Who pays the service worker's salary? You. Wouldn't it be better if your money stayed closer to your home?
A 2011 study by the Marin Economic Forum found that this outflow amounted to a $1.4 billion loss in potential economic activity. The Economic Forum's study found that if affordable housing were built for just 1% of Marin's in-commuters, the new households would generate over $14 million in total revenues for Marin's economy.
So maybe you're ok with your gardener taking your money home to spend in Fairfield. How about your kids' teachers? The starting salary for for an elementary school teacher in San Rafael is $43,050, nowhere near enough to cover the cost of a nearby apartment. Faced with an economic juggling act to cope with Marin's cost of living, young teachers are passing up Marin, and looking for a better quality of life elsewhere.
Maybe you don't mind sending your money out of the County, and maybe your kids are grown. Thinking of aging in place? At some point, if you're lucky and live long enough, you may need home health aide assistance. Do you really want to be reliant for your daily needs on a caregiver whose earnings are relatively meager, and who is commuting to and from Concord or Sonoma every day?
MEHC says we need to make a dent in Marin's jobs/housing imbalance by seeing to it that affordable housing is built close to transit and jobs. If we don't, we'll pay for it.